Sitting down with Malcolm in the practice he ran for so many years, I immediately get a feeling of a man at ease in his surroundings. As I am proudly shown some of the history of the business, I am reminded of a quote that resonates with me from the late Steve Jobs:
"Your work is going to fill a large part of your life, and the only way to be truly satisfied is to do what you believe is great work. And the only way to do great work is to love what you do."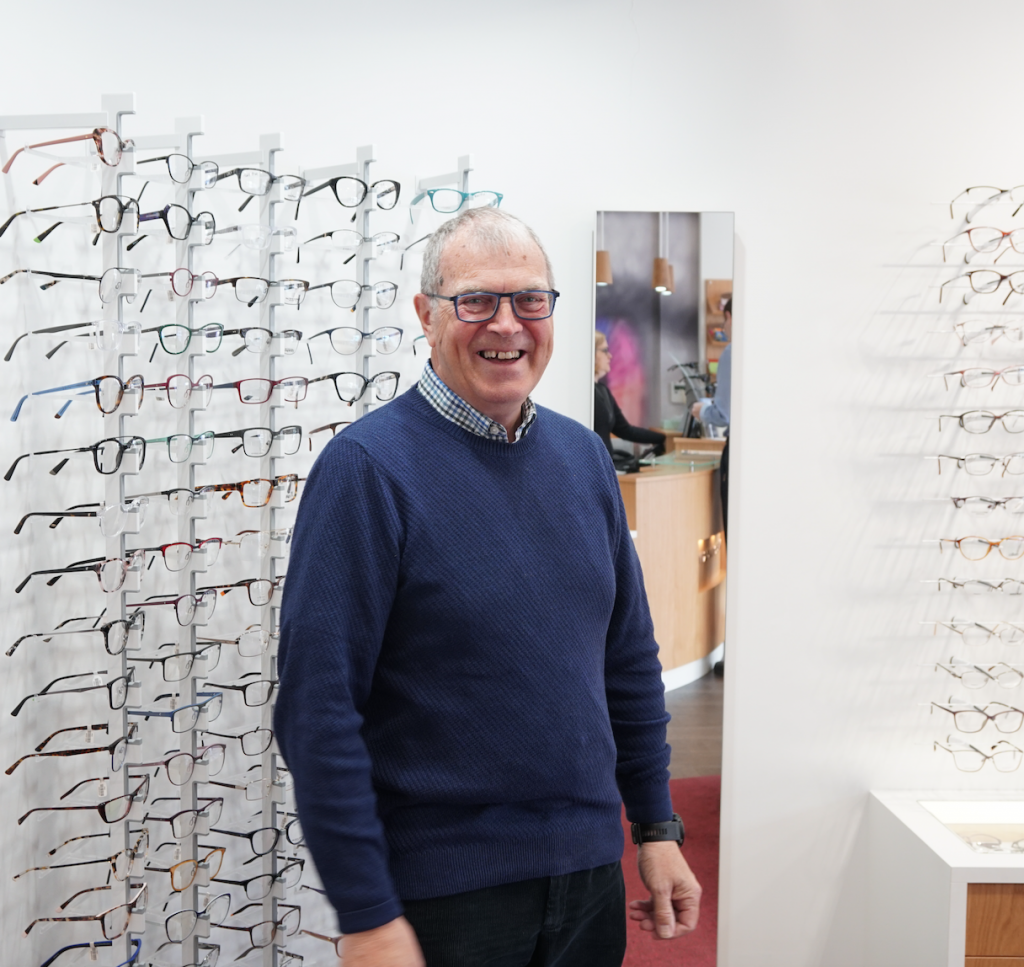 I didn't mention this to Malcolm, but in my opinion, he has delivered on the above statement in spades.
Many of you reading this blog post will already know Malcolm personally; some of you may have had parents and grandparents who were cared for by Malcolm and his team. This interview was designed to dig a little deeper into the history of the practice and try to understand why a local optometrist can thrive in a world where we can order food to our door, book holidays from our phones and yes, buy glasses from the comfort of our own sofa.
You see, we live in a world of convenience, but that is only half the story…
Where did it all begin?
Malcolm spoke about the date as if it were yesterday. The Mere Green practice was opened on the 1st April 1976 above what is now Barclays Bank. He'd started a practice in Nov' 1973 in Eccleshall but wanted to open a 2nd practice. In those early days, he was running both as well as locum work to make ends meet.
Starting with a small bank loan he stayed extremely frugal during those times to get the business going. Supported, in part, by his wife's income and locum work, it was nearly 7 years until he took a salary.
What prompted you as a young man to explore Optometry?
"I always knew I wanted to work with people". It was the husband of a teacher he had at school who offered him some work as a holiday receptionist and that was it; he was hooked.
The man who took him on, and initially trained him, was a man of great principles and you can see those same principles have filtered down into the team that work in store today.
Mere Green
Malcolm Gray is a well recognised brand for local people, but I was interested to hear how it was back when he started.
"It was known as 'the village'. Back in the 70's it was a sleepy place where everyone knew each other. As a result, if someone had a good experience, word of mouth spread very easily. The only advertising I did was on a canopy above the door. The business grew slowly but it kept growing.
"Over the years a number of practices have opened nearby and failed which gave us the confidence we were doing the right thing."
And now we have Boots and Specsavers, but Malcolm states clearly, "We offer something very different, we have a very different customer base."
"This is a place where doctors and consultants have come for many years and those relationships have been built on clinical competency and accuracy of referral."
So it is not just looking after the public that matters, there is clearly a passion for doing things to the best of their ability which drives the practice today.
Patients
Malcolm spoke about some of the basics of running a business and how too often people focus on the numbers rather than the overall reason for why the business exists in the first place. After all, it is the customers we serve that makes it all work.
"They've always been patients not customers to me. I always saw my customers as an extended family and when you are with someone, that person has to be treated as the most important person."
These kinds of attitudes which I see in Steve and Kathryn today have clearly been passed down from Malcolm and form the backbone of the business.
Staff
"I've always enjoyed the work and tried to make sure everyone else enjoyed it too"
"We've hardly had any staff changes because we look after them and treat them as family. The last one we lost was because her partner got a job in Switzerland!"
It is clear that Malcolm invested in staff bringing 7 trainees through to become qualified. Some started as receptionists, others straight out of University.
"Steve was a technician and Kathryn has been with us pretty much since school. After years working together, Steve said he'd like to do my job and I had 2 ladies that wanted to buy Eccleshall from me. This was a retirement plan that I knew could work for me".
It is clear that Steve and Kathryn, who now own the practice, have taken the founding principles that Malcolm set out to achieve and have run with them.
When I sit and talk about the future of the business with them, there is a clear direction they wish to take it. For them, much like Malcolm, it isn't about being the biggest or having the highest turnover, it is more about legacy, reputation and the community they work in. I can see the excitement they get out of making customers smile, making them feel valued and knowing that customer leaving the practice are almost guaranteed to tell their friends what a great experience they've had.
What do you do now you've retired?
"I'm still legally registered with the General Optical Council so I can look after my close family and I still have to do the on-going training. I'm also currently chairing a local optical society"
But it is not all optometry these days for Malcolm. He is also 'Lead Volunteer' for The Canal and River Trust in Staffordshire trying to improve the health and wellbeing of people on the canals.
It is fairly clear that Malcolm is a grafter and enjoys a challenge but what is most noticeable to me is that despite Malcolm no longer running the day-to-day of the practice, the people he brought on board have taken his experience and run with it.
James