Once again, the time of year that never fails to creep up on parents of School age children appears almost without warning – it's World Book Day! Held annually on the first Thursday in March, it gives us a chance to celebrate the world of books and the joy of reading. Once we've hastily put together an outfit for the kids to wear to school, we can take some time to remember the slightly less stressful aspect of the whole thing – the utter joy of reading to our children or grandchildren.
As children, we all hopefully remember our first experiences of reading and being read to, and in later life, it's only right we continue the tradition. Reading to a captive, (if a little wriggly!) audience is the best kind!
Reading with children helps us and them in so many ways. From the close bond that reading gives us when enjoying a book together, helping with children's education, to re-igniting our love for classics we've loved in the past. From the books that have been around for many years such as Beatrix Potters Peter Rabbit and the fabulous Dr. Seuss stories to the more recent and much loved Harry Potter series by JK Rowling or perhaps Julia Donaldson's Gruffalo. Reading to children brings back happy memories, allows you to dive straight back into the fantasy worlds and this time allows you to take the next generation along for the ride.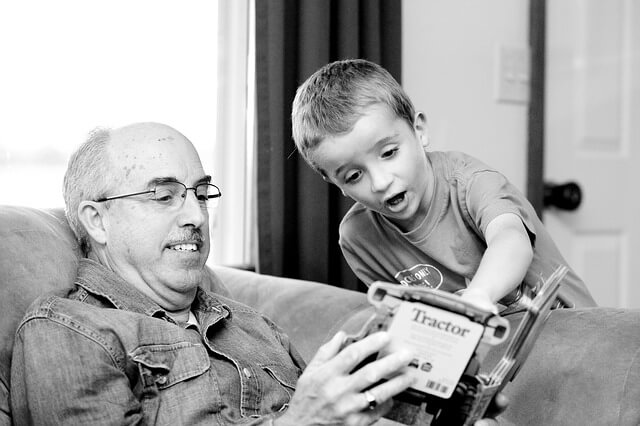 But what if you're struggling a little to place those words on the page? What if the edges just seem a little blurry? What if you've noticed just recently that your eyesight isn't quite what it used to be or worse still, the kids or grandkids are starting to correct you!
When did you last have a sight test? If it was a little longer than you thought this could be the problem. Perhaps your glasses just aren't quite what they were and need an overhaul or just a little repair?
All of these are issues that can easily be fixed. A quick call to us here at Malcolm Gray, or just complete the form below is all it takes to book an appointment at a time that is convenient to you. We can check your eyesight; ensure you have an up to date prescription or simply help you fix those glasses that have seen better days.
Whatever the issue, all it takes is a quick call or few clicks on the keyboard and we'll help you and the kids get back into reading and enjoying books once more. Now, which story to choose??
[ninja_forms id=1]